What on earth is Persona Development?
Persona Development refers to the process of creating detailed fictional characters or 'personas' that represent various aspects of your target groups. This method goes beyond traditional market segmentation, which typically relies on socio-demographic data like age, gender, or income. Personas are crafted to gain a deeper understanding of the individual desires, values, and lifestyles of your customers, as these often play a more significant role in shaping behaviour than raw statistical data.
Even within a quantitatively homogeneous target audience, you can find vastly different personalities with diverse lifestyles. Take for instance the socio-demographic twins Charles III and Ozzy Osborne, both born and raised in 1948 in the UK. Both men are on their second marriage, have children of similar ages, and enjoy financial stability and professional success. However, despite sharing similar demographic characteristics, they exhibit substantial differences in lifestyle and preferences. This vividly illustrates the limitations of quantitative segmentations.
Persona Development allows us to uncover these values, lifestyles, and behavioural motivations within your target groups. Sustainability, for example, can be addressed at various points along the customer journey through different information and motivations. Taking a psychological look beyond the quantitative metrics can be insightful and assist you in developing customer-centric marketing.
Step by step, the focus on a customer group condenses into a vivid portrayal of an individual. Each persona is given a name, a profession, a place of residence, and even a family or a pet. You learn about his or her hobbies and interests, goals, needs, and aspirations. You also uncover the concerns and 'pain points' that highlight the demand for improved, innovative and sustainable products.
With this personal portrait of the persona in mind, it becomes easier to enhance products, shape customer interactions, craft targeted advertising messages, or create social media content that resonates with the specific persona.
The persona development process usually consists of the following steps:
Inventory: Summarising, structuring, and analysing all the information your organization has about your clients.
Persona Canvas Design: Conducting a workshop to define the relevant characteristics and features that can meaningfully describe various need-based groups.
Gathering consumer insights: Engaging in personal interactions with different consumers to collect observations and findings.
eveloping personas: Using the persona canvas, structuring, and solidifying the insights, and visualising them through persona set cards.
Knowledge sharing workshops with your team and other departments to ensure that personas are disseminated and actively used within the organisation.
Not only does technology change in the times of digital transformation, but so do people, who evolve and continually learn. Personal growth and life-long learning are important trends of our society and business. This is why personas should not be set in stone but be developed continuously and organically. The more actively teams and business areas make use of personas in customer surveys, user experience tests, market research and new product development, the faster their learnings can be reconciled and integrated into the personas. By treating them as living documents, your understanding of the needs groups will always remain up to date.
There are many ways to gain an understanding of your customers. They all have one thing in common: personal contact and interaction. Here are some examples of our methodological tool box:
During Consumer Visits you meet representatives of selected needs groups at home. Interview technique trainings and an interview guide will empower you to explore through observation and dialogue what your interview partners think, wish for, get annoyed about and appreciate.
In a Consumer Journey you observe how your clients use your products and services in their natural environment. Depending on your industry and goals, you will shadow your consumers when cooking, cleaning, grooming, styling, sewing, sawing or posting. You can accompany them when shopping (offline or online) to observe directly how they orientate themselves, compare and decide which products to go for. We analyse and solidify the consumer insights guided by the persona canvas in a joint workshop.
Moderation Training empowers teams with a degree of expertise in conducting personal interviews to moderate focus groups with consumers and users. On the first day, a mix of theoretical input and practical exercises in dyads provides the required conversation techniques and know-how regarding group dynamics. On the second day, participants (co-)moderate a small group with `real' consumers. The topic of the discussion can pick up on a research or business matter currently relevant for you and your organisation.
Application and expertise
Initially, personas were developed to manage IT application requirements. Due to their strengths they are being used in various business areas:
Designing 'physical' products in various industries
Developing and improving services
Creating advertising campaigns and communication
Designing online and offline shops
Developing apps and digital products
User Experience Design
Content Management
I have experience in persona development in the following industries:
Automotive
Electric household appliances
Power tools
Financial services
Household hygiene
Personal care and health
Logistics
Food and beverages
Travel and tourism
Consumer electronics
Insurances
Christian Schech and Bastian Wetzel, the founders and developers of SOI, wondered why women are constantly searching for items in their handbags. During a power blackout at a folk festival, women spontaneously used their smartphones as emergency light. The idea of a professional "bag light" was born – which would bring an end to fumbling around in the dark. The analysis of the competitive environment revealed that bag lights already existed. But they were difficult to use and uncomfortable. Insights that we at COLIBRI Research gathered together with WeJane (Amsterdam) and our global research network (Bag Stories), enabled us to support the product development process through profound psychological insights about women and their handbags.
Four product design requirements were derived from the consumer insights:
Women usually use several handbags and change between them throughout the day. A central requirement was to design a handy, light-weight and mobile-use bag light.
A bag light must provide a comfortable and intelligent solution. The innovative product will only add value if the light automatically turns on as soon as women start rummaging through their handbags. Until you've found the power switch, you've already got your keys and so the light is obsolete.
Women do not have a purely functional, but always a personal and sometimes even an emotional relationship with their handbag. As a consequence, feminine design and materials that look and feel good guided the product design decisions.
Women already have a lot to do and are not really keen on laboriously keeping their handbags tidy. Hence, the bag light should be user-friendly and low-maintenance.
Bag Stories - What bags tell about women
"Every woman has an uneasy look if somebody glances into its sacred privacy. A decent man should always tactfully stare
at the ceiling whenever his companion opens her bag."

New York Times 1945
We shamelessly talked with women about the content of their bag. So did our partners around the world, from Shanghai to Stockholm. Bags from 16 countries tell the stories of their owners. Feminine insights based on one of the most intimate accessories in a woman's life: her handbag. Getting curious?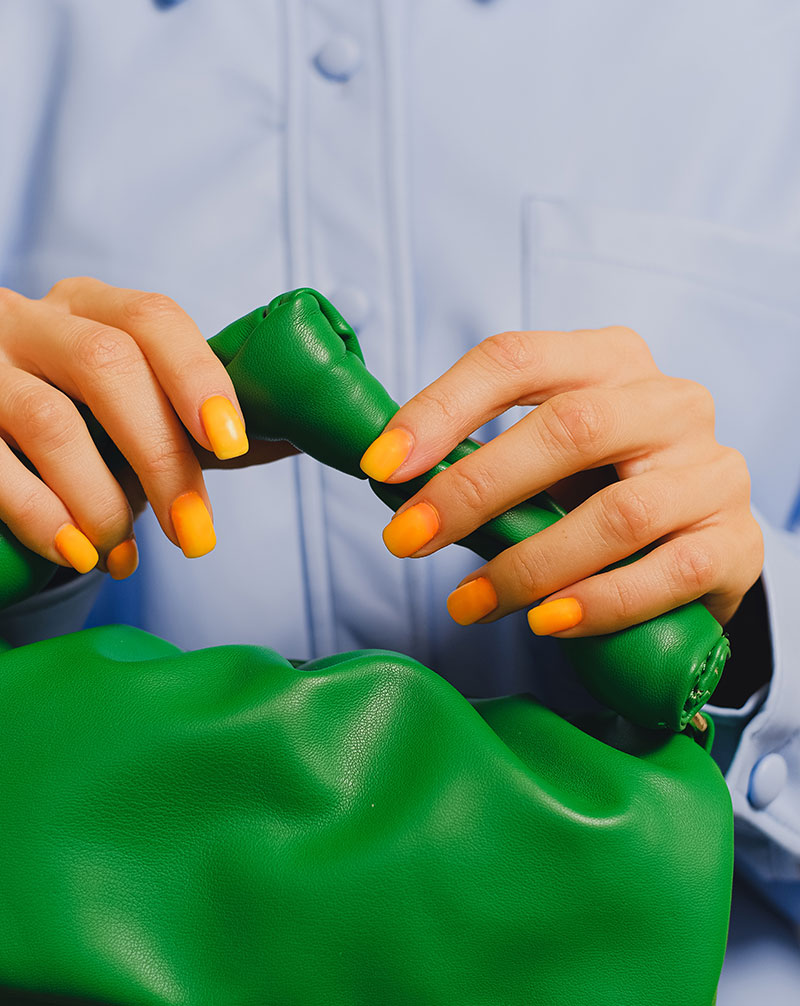 "An empathic understanding of the target group, conscientiously dealing with people and nature and attention to detail guided our product development process in the right direction. For eight months the team conducted intensive research and development. Besides self-testing and observations, consumer insights significantly contributed to turn the spark of an exciting idea into an illuminating product."
Benedikt Lehnert
Designer at SOI